Style
Experience Star Power: Andre Emilio's Unveils Designs Inspired by Tony Awards 2023 Celebrity Fashion
The Tony Awards 2023 was not just a celebration of Broadway's finest but also served as an homage to avant-garde fashion statements that have defined and redefined sartorial trends globally.
As stars paraded in their elegant couture, they painted a grand spectacle of style and sophistication that was much more than just a visual feast. Inspired by this alluring display of fashion, renowned designer Andre Emilio has unveiled a new collection, incorporating the essence of the Tony Awards' 2023 celebrity fashion.
Textured Black Tuxedo with Satin Peak Lapel 3 Piece Suit
Striking an impeccable balance between tradition and innovation, Andre Emilio's Textured Black Tuxedo is the embodiment of modern sophistication. The subtle texture adds depth to the classic black, while the satin peak lapel gives it an unmistakable elegance.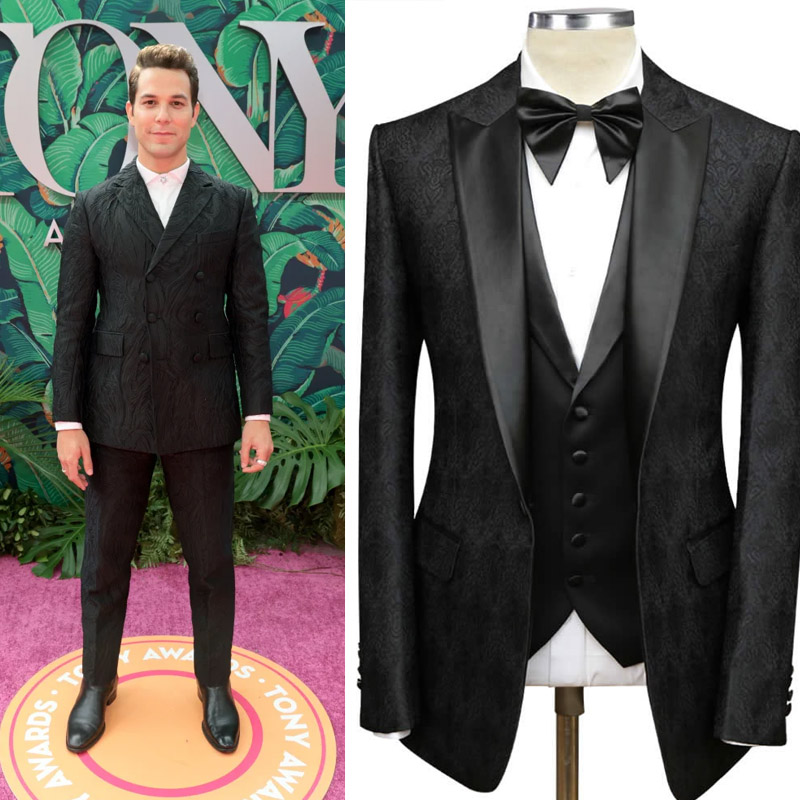 This three-piece suit, a recreation of one of the night's standout looks, is perfectly tailored to make any man feel like he's ready to receive his Tony award.
Black British Morning Tuxedo Suit
Taking inspiration from the sartorial elegance of British tailoring, Andre Emilio presents the Black British Morning Tuxedo Suit. This suit breathes new life into the traditional morning suit silhouette, showcasing Emilio's expert craftsmanship and eye for detail.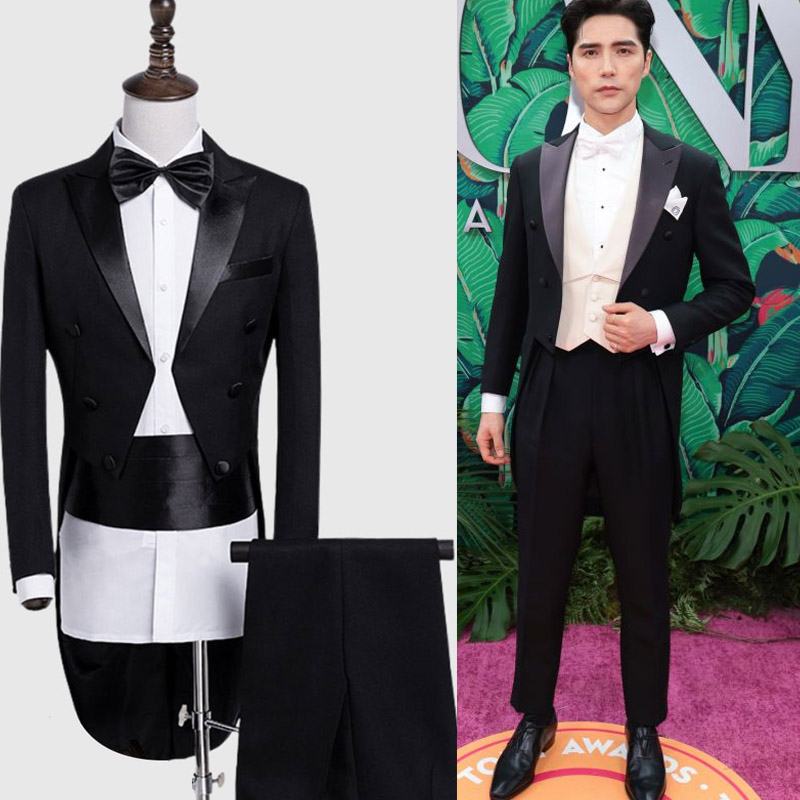 It features a sleek cutaway jacket, paired with an impeccably fitted waistcoat and striped trousers, promising a dignified look with a contemporary twist.
Double-Breasted Ivory Dinner Jacket
As a nod to the bold fashion choices on display at the Tony Awards, Emilio's Double Breasted Ivory Dinner Jacket is a masterstroke of fashion-forward thinking. The jacket, a departure from traditional black and white palettes, offers a refreshing take on dinner attire.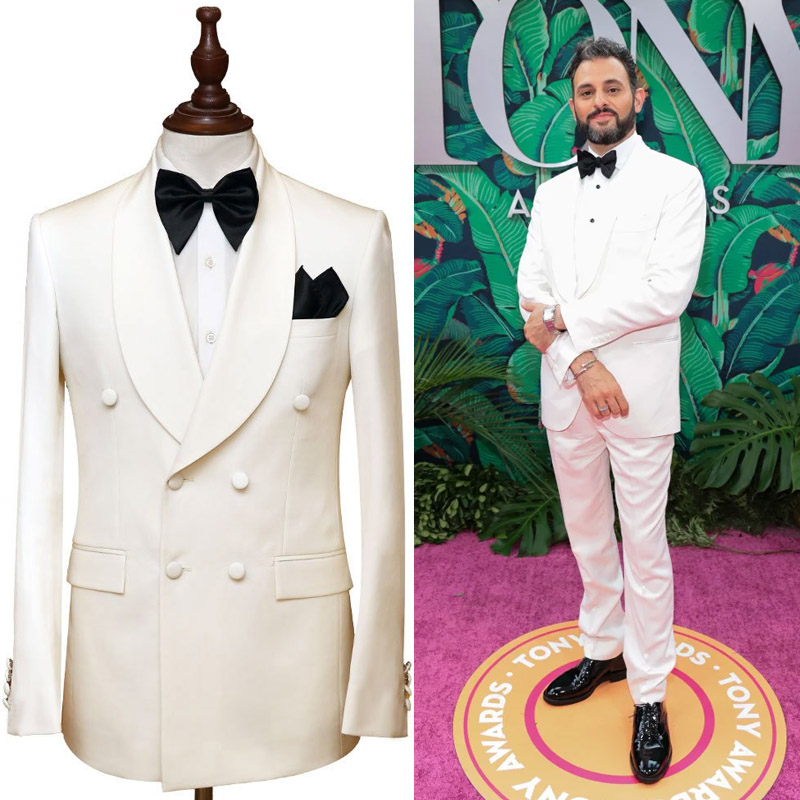 This piece captures the spotlight with its striking double-breasted style, serving as a perfect ensemble for those who dare to push the boundaries of conventional fashion.
All Black 3 Piece Tuxedo with Silk Lapel
Emilio's All Black 3 Piece Tuxedo with Silk Lapel resonates with the quiet charm of understated elegance seen on the Tony Awards red carpet.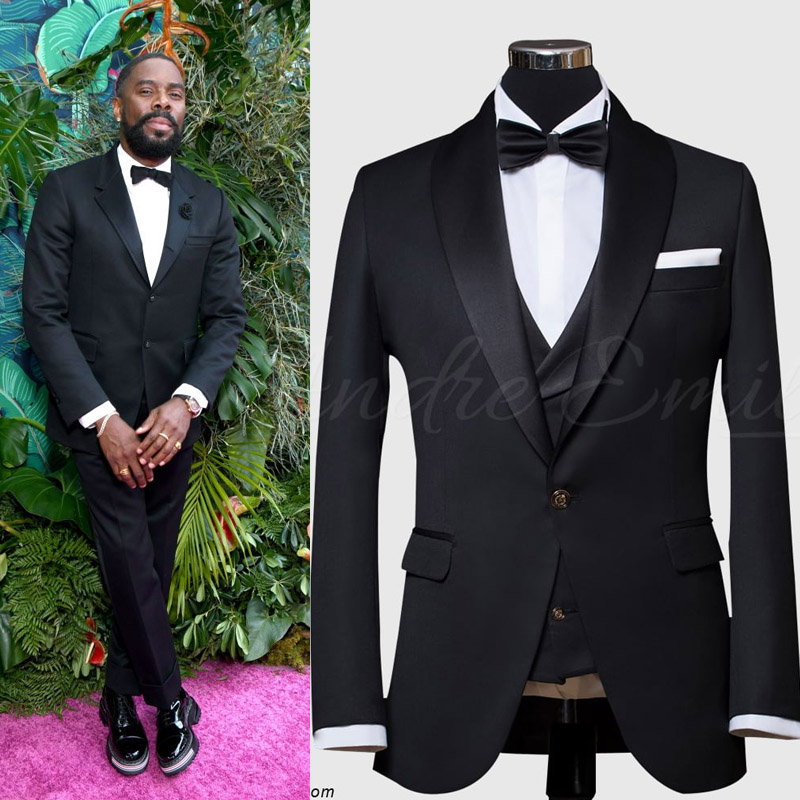 The suit, in its captivating all-black palette, boasts a sleek silk lapel that exudes sophistication. A distinct blend of comfort and style, this tuxedo is designed for the modern gentleman who values both aesthetics and functionality.
In conclusion, Andre Emilio's collection is a masterclass in translating celebrity fashion trends into wearable pieces. Each design is a testament to the transformative power of the Tony Awards' 2023 fashion statements, as they inspire and influence style choices beyond the red carpet. This collection indeed brings the star power of the Tony Awards to your wardrobe.