Fitness
3 Punch Recipes Perfect for Your Summer Barbecues
It's hard to beat burgers and beer for sun-season celebrations. But when you need to upgrade your backyard barbecue, you can't go wrong with one of these refreshing punches. 
Here are three cocktail recipes you need to try right now.
1. Pink Vespa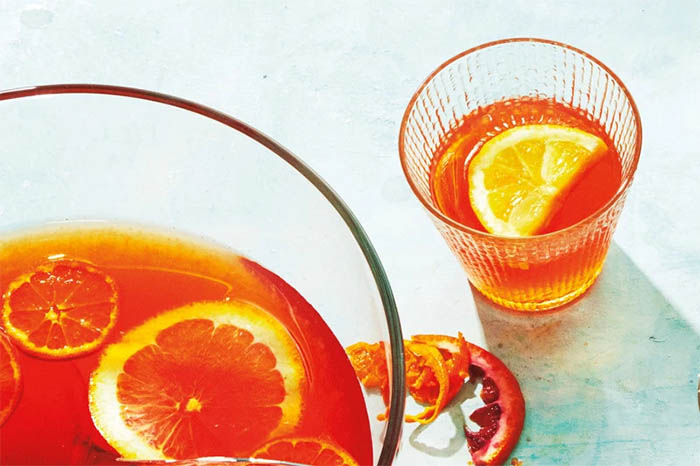 From Columbia Room's Punch Garden in Washington D.C.
30 oz basil-infused vodka* 
20 oz Cappelletti Aperitivo 
10 oz fresh lemon juice
10 oz simple syrup
20 dashes orange bitters
40 oz sparkling mineral water 
Mix all ingredients in a large punch bowl. Serve over ice and garnish with basil. Serves 20.
*BASIL-INFUSED VODKA
Add 20g of chopped basil to 1 liter of Aylesbury Duck vodka. Let sit overnight. Strain through cheesecloth or a fine strainer.
2. Barrel of Fun Punch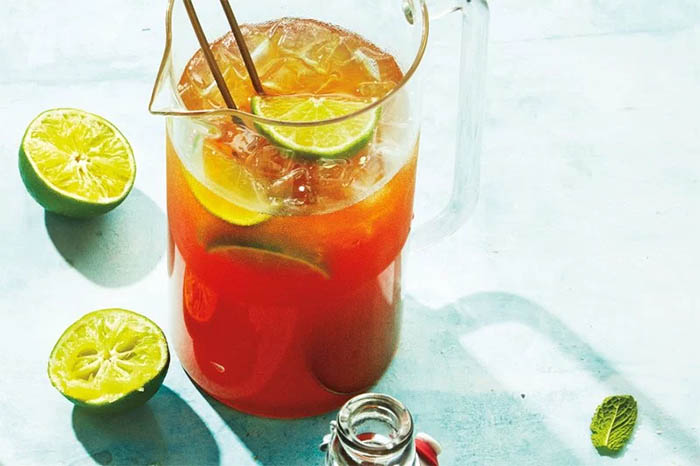 from Diamond Reef bar in Brooklyn
1 bottle (750ml) blended Scotch 
12 oz fresh lime juice
12 oz cacao cane syrup*
12 oz water
Mix all ingredients together in a bowl and chill by adding a block of ice. When serving, grate nutmeg on top of a full glass. Serves 12.
*CACAO CANE SYRUP
8 oz crème de cacao mixed with 4 oz cane syrup
3. Louisiana Teapot Julep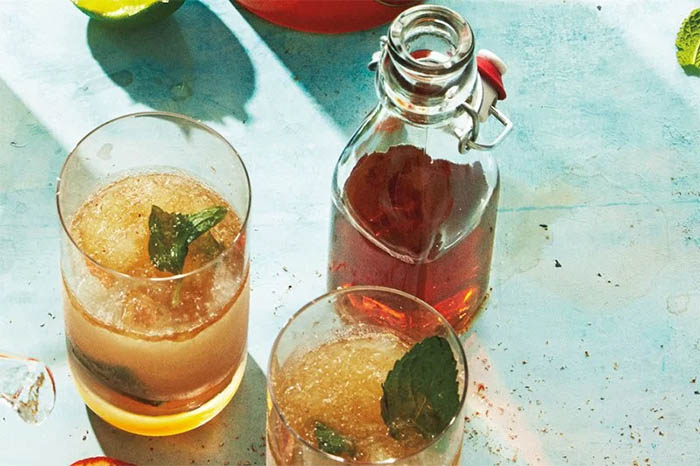 From Rudolph Bar & Tea in Los Angeles
10 oz mint-infused rye whiskey* 
2 1⁄2 oz peach-tea-infused demerara syrup**
10 dashes Angostura bitters
10 dashes Peychaud's bitters 
Combine all ingredients in a large teapot or pitcher with ice and stir gently until it is chilled. Pour portion into a glass with ice. Garnish with a straw, a lemon wheel, and mint. Serves 5.
*MINT-INFUSED RYE
1⁄2 lb fresh mint leaves, stems removed
1 bottle (750ml) 100-proof rye whiskey, such as Rittenhouse
In a wire-mesh strainer, blanch mint in hot water for 5 seconds. Immediately remove and place in ice bath. Press remaining water from mint and, in a blender, combine the mint and rye. Let stand to infuse for one hour. Strain through a fine metal strainer before using.
**PEACH-TEA-INFUSED DEMERARA SYRUP
1 cup water
1⁄2 oz loose peach-flavored black tea
2 cups demerara or turbinado sugar
Bring water to a boil and remove from heat. Add to tea and infuse for exactly 5 minutes. Strain through a fine metal strainer, removing all of the tea leaves. While the water is still warm, add the sugar and stir until it has been completely incorporated before using.